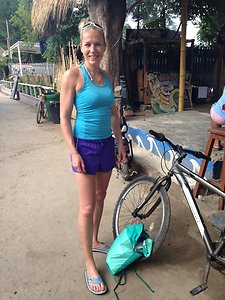 Personal Training Your Way
"Change happens through movement and movement heals" JOSEPH PILATES
Are your first steps to fitness blocked with negative thoughts and feelings?

Are your personal beliefs self limiting and preventing you from taking that first step to building a more balanced life?

As a personal trainer and a counsellor I understand that exercise is a partnership of body and mind. I have experience of working with a diversity of clients which enables me to tailor make your training sessions uniquely to you.

Are you feeling stuck with your current fitness regimes or finding it hard to make a start?

Could you benefit from working alongside a personal trainer who understands your uniqueness?

Does the thought of working out in a busy gym disempower you?

Are you interested in learning more about correct technique and how to perform movements to the best of your ability?

Feeling a renewed sense of confidence and motivation could help.
Focussing on you and tailor-making sessions to work at your pace and ability.
Fitness sessions in a smaller more personal space that fully supports your fitness journey.

Areas of Specialism

I am experienced with:

Working one to one with clients

Working with couples

Working with small groups / partners

Working within a group fitness environment

Working with children

Working with beginners to fitness

Working with older clients

I am able to work with you focussing on:

Cardiovascular Fitness

Toning and Strength

Core Strength

Flexibility

Running

Pilates Fitness

Posture / Form / Alignment

Correct techniques and execution of movements

Qualifications

Level 2 Fitness Instructor

Level 2 Indoor Cycling

Level 2 Childrens Fitness Instructor

Level 3 Personal Trainer

Level 3 Pilates Matwork

Level 3 GP Referral In Health Management

Primary Certificate in Health&Wellbeing Coaching

My private gym offers everything you could possibly need for a complete workout. Equipment available to you includes a treadmill, spin bike, boxing bag, dumbbells, kettlebells, and much more. In addition to cardiovascular and resistance training, I am able to offer Pilates sessions on a one to one basis using small equipment in order to promote improved flexibility ,mobility and stability, a great way to improve your core strength and tone your whole body. If you would like a virtual tour of this space or to find out more please get in touch. If you are looking for a Personal Trainer who is fully committed to giving you the best outcomes possible for both your body and your mind please get in touch. I will never tell you to push past pain and I will always encourage you to listen to your body and do your best.

Are you working from home? Are you sitting in a chair for most of the day? Has back pain been holding you back from exercising? You can work with me to explore how improved flexibility in your weekly fitness sessions could improve your posture and contribute towards a better awareness of your spine and the ability to move freely without tightness or tension. Each class takes a maximum of twelve people enabling a more personal level of service and understanding of the teaching method.

Would you like to join a small and friendly Pilates community? Community classes are the perfect way to enjoy Pilates with other like-minded people who live in your local area.

Classes available at:

* St Francis Church in Charminster at 1030am and Midday on Mondays
* Queens Park Golf Course Woodpecker Cafe 10 am on Wednesdays
* Bournemouth Electric Sports & Social Club 9am and 10;15 am on Thursdays
* Bournemouth Electric Sports & Social Club 6:15pm on Tuesdays

* Online Zoom on Mondays at 7 am.
* Online Zoom on Thursdays at 7 pm.


Please email or call to discuss your individual requirements regarding personal training.



"Michelle is my personal trainer. I have completed 1 - 3 sessions per week for 2 years. Michelle's brand of PT is absolutely unique. She has experience within a counselling setting as well as physical health and well-being These pair perfectly with personal training enabling you to get a balanced approach to both your physical and mental health.

As a larger person who has struggled with health and fitness all of my life, I was very anxious about my shape. I didn't exercise much as I couldn't stand public gyms or sports facilities. Michelle works from a private gym. My coaching sessions feel comfortable without the fear of being judged or watched by others. This is important to me.

I used to avoid looking in the mirror at the gym. When I exercise now I actually get a buzz from seeing the sweat running down my face. We have covered most forms of cardio exercise and Pilates. Michelle tailors my sessions dependent on how I feel and what type of workout I want.

This February I asked Michelle if she thought I would be able to do the couch to 5K challenge and she immediately said yes. I hadn't run since I was a child and I never thought I'd be able to do it. She has encouraged me every step of the way. I love running and spending time outside exercising. I am no longer bothered by people watching me. Michelle is by my side every step of the way, literally!"

Donna Aged 47